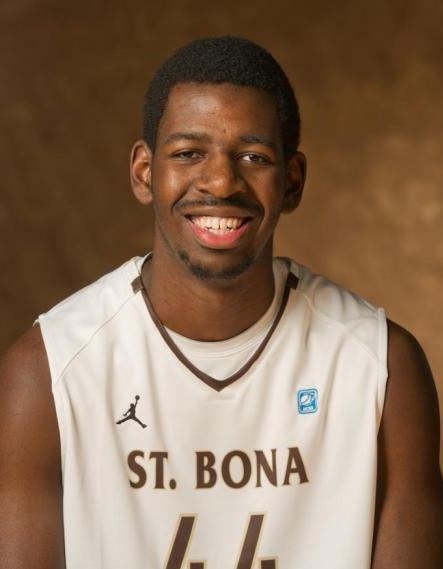 If you follow my Twitter feed, you know I can be a pretty pretty emotional guy. Which is why I wanted to wait a few days to empty out emotions and to make sure the guys we selected didn't get shipped elsewhere before creating this blog post. The last thing I wanted at #19 was a PF. We have Ryan Anderson, Glen Davis, Justin Harper, and Earl Clark (Who initially turned down his $1.25 million option but decided to stay with the franchise this upcoming season). We needed help at EVERY other position but the '4'. I had my eyes set on Marquis Teague, John Jenkins, and Perry Jones III when our turn came at #19. After we picked
Andrew Nicholson
from St. Bonaventure, a few things popped into my mind. First, that at least we didn't choose Jared Sullinger. Second, that there was little chance Ryno was coming back. Or that somehow Ryno or Glen Davis would be traded this offseason. Third, a Canadian, eh? And finally,
didn't I see this Nicholson guy at the UCF Arena over a year ago
? That kid and team came a long way.
Here is where we quickly found out what Rob Hennigan is all about when it comes to his Magic roster preferences. 'Henny' badly wants true men with character. Hearts the size of states. A willingness to fight for your teammates and the victory. But also a solid basketball IQ and a wanting to improve in facets of the game that best benefit the franchise.
Orlando Magic Daily
provided a superb breakdown for the 4-year senior. There you'll see some statistical numbers. I learned a long time ago to throw away college stats and just evaluate the men themselves. Nicholson isn't Mr. Charismatic. He's a blunt as he is business-like on the court. On film, Andrew initially doesn't look all that much better than Justin Harper at times. BUT, watch enough and you'll notice this physics addict can play like David West. Hell, even a Horace Grant 2.0.
Grantland sees a sleeper
. Nicholson also could be mistaken for Brandon Bass' little brother. Extremely smooth movements on the court. Almost to the point where he can appear sluggish. But then a vicious block or dunk immediately erases that thought from your mind.
Post offense potential
! Andrew's slow motion-like jump shot and release was effective in full part due to that 7'4" wingspan. Can it translate to the big boy court? Also,
post defense needs vast improvement
. The Magic trainers have a superb weight and fitness program. They'll do wonders with Nicholson who needs to bulk up. Andrew has the frame to withstand NBA punishment.
Kid is very sharp and witty
and shows off his scientific creativity. I am a bit worried about his narrow shoulders. Unlike Bass, Andrew's brain appears to be constantly churning on both ends of the floor. The statistics and 'analytics' of Nicholson's final 3 months with the Bonnies proves it. Tom Penn, the only useful ESPN Draft coverage member showed how Andrew is very well the best PF of this class and that Orlando got a steal. We shall see, but the
highlights certainly show promise
. 'Drew could be the new franchise PF when it's all said and done. For now, build strength and don't be afraid to abuse opponents in the Summer League.
I'm really digging the retro Magic hat, Kyle. Here's to many more photo ops in the future. He's already embracing Orlando and he just arrived. Be honest, Magic fans. Raise your hand if you thought
Kyle O'Quinn
was a white guy the first second you heard his name called or read it on ESPN's ticker? Anyway, with any 49th draft pick one can't possibly put large expectations on the selection. Someone should get fired for even contemplating any athletic similarities between Kyle and Taj Gibson. O'Quinn dropped deep into the second round in large part because he doesn't overly impress you when he leaps. That and he's still raw for being a 4-year senior. You
can't teach clutch
however. Kyle has been penalized for not being a teenager anymore. The man who could be the doppelganger of the recently departed Otis Smith, Kyle has the build and basketball IQ to make a good professional living as a 6'10" backup center. He may have peaked as far as potential goes, but the Norfolk State Spartan knows how to
maximize utilization in his 240-pound frame
. There's absolutely zero fear of contact in this grown man.
Double-double machines
should always be given a fair chance to produce on the pro stage. He can't possibly be worse than Daniel Orton, right?
Ridiculously likable
and easily a new fan favorite in Orlando if he makes the squad. Only other guy I cared about selecting at this spot was Syracuse's Kris Joseph. Kyle's initial goal and focus should be to bang and board often. Also, some
singing lessons
. Offensive production is a bonus if he can be a vital defensive option and a
shot blocker extraordinaire
.
I'm not one to give out grades, but I'll make the exception here: B-
Don't think Craig Sager forgot about that interview. For now, Kyle looks like the better value pick. Again, that letter grade can get a whole lot better with a trade or two and reevaluating the entire 2012 Draft class in a few years. Both Andrew and Kyle are still raw. Neither player began participating in basketball until the 11th grade. So there's plenty for both men to learn and improve on. Plus, we did pick up Charlie Westbrook to suit up in Magic pinstripes for our Summer League team this month. Here's to hoping he can play point guard a lot better than Duhon.
Both Kyle and Andrew are ecstatic to be playing in Orlando
. Both seem willing to cause positive chaos anywhere and everywhere on the parquet to better this Magic franchise. Welcome to the Rob Hennigan era. Here's to hoping it's a beyond successful journey.