I'm not talking about
Jack 'The Goose' Givens
either. Feel free to also insert your Lake Eola jokes.
Gustavo Ayon
is his name. You have to be a fairly solid 27-year-old rookie to earn a nickname immediately. Unless you watched a few Hornets games last season, not many of you will know what his game is like. Rob Hennigan's defenders are already referring to this as a San Antonio Spurs type of move. New Orleans media and fans seem to adore 'Goose'. A big reason was the adversity and patience he displayed in eventually navigating his way to very important playing minutes in the
Lockout-shortened 2011-2012 campaign
. Ayon only makes $1.5 million per season, and we have a team option on Gustavo for that same amount in the 2013-2014 season. Draft Express absolutely
rave about Ayon
. The Mexican isn't a flashy player by any means, but he's tough, is crafty in the paint, can pass well for his position, likes being completely unselfish, is actively always moving around on both ends, has
underrated leaping ability
, has
superb quickness
for his 6'10" and 250 pound frame, and can be a double-double threat if given the playing time. He's basically what
Eduardo Najera
would've been if he was a few inches taller. That's far from a bad thing. The Magic faced the Hornets once during the Lockout season. It was one too many. My insides still haven't recovered from
seeing that butchering we took live and in person
. Ayon didn't get much burn on that evening.
Ayon was a 2007 & 2009 Mexican League All-Star Game participant. In his final season playing in Spain before joining the Hornets, 'Goose' won the ACB Rising Star Award. So in a way we traded one Most Improved Player for another. Conditioning is the main issue with Gustavo. Orlando is always known for great physical fitness training thanks to Joe Rogowski. If Ayon's playing potential is as high as
his needed improvement of English
, this will be a wonderful acquisition. His Spanish
sounds competent enough
to me. Let's hope Gustavo can continue shooting above 50% from the field for us. Don't expect a huge influx of Mexicans showing up to Amway Center. There is zero debate in comparing the Mexican's acquisition to Carlos Arroyo's Magic joining and seeing all the Puerto Rican support that flocked over to the O-Rena for him. Hopefully all fans will love Ayon when it's all said and done. 'Goose' is athletic enough to play power forward, but his true calling (and what the Magic will need) is help at the center position. Whether that's somehow as a starter or a backup is yet to be determined.
You wonder if Rob Hennigan witnessed that 16-point Gustavo performance in Oklahoma City and if it stuck with him as a player he'd love to have on his roster. Ayon's arrival in Orlando came at the sign-and-trade price of losing fan favorite and still-improving
Ryan Anderson
. The 2011-2012 Most Improved Player will be getting a 4-year deal in NOLA at an estimated $9 million per season. Not a bad pay day. I was expecting more though considering the Boston Celtics just gave Jeff Green the same exact deal. Mr. Anderson is arguably the much better player and prospect. The trade exception we get out of the deal will more than soften the blow of losing Ryan. New Orleans will love Ryno's charisma, effort, and
game of Snoggle
. Anderson is Mr. Space Creator who is never afraid to bang around and crash for rebounds. Dante Marchitelli is clearly
the biggest loser of this transaction
. We all love Ryno to death, but he's had a few terrible Magic postseasons already in his young career. Otis could've extended Anderson back in January, but chose not to. It makes you wonder if he should've been dealt at the Trade Deadline. There's the contingent of Magic fans who cherished Ryno if nothing else as a future trade asset. We did it with
Marcin Gortat
right? Well Gortat at $6 million as a top 10 center in the league behind Dwight Howard is more marketable than Ryno.
Anderson has disappointed in EVERY Magic postseason series
he's participated in. The Pacers defeat a few months ago didn't help his cause or stock (although I was certain Sacramento would overpay for his services). Was Ryno double-teamed at times and used purely as a decoy? Sure. But Ryan had an abundance of open looks that he couldn't capitalize on. David West and the rest of the Pacers's big men in a sense destroyed Anderson. Plus, Stan Van Gundy is gone. The system he ran was built to make power forwards get open looks and benefit from whomever was playing center on the court. Ask
Brandon Bass
who is getting paid to stay in Boston. You can't gamble with $9 million when you have no clue who your Head Coach will even be yet. Combine that with Ryno being more of a regular season producer, and it's not that difficult to envision Anderson running around in another franchise's jersey. Myself and all of Magic nation I'm sure wish Mr. Anderson all the best as he will try to build on a still quite solid MIP season. Monty Williams all of a sudden has a decent roster at his disposal.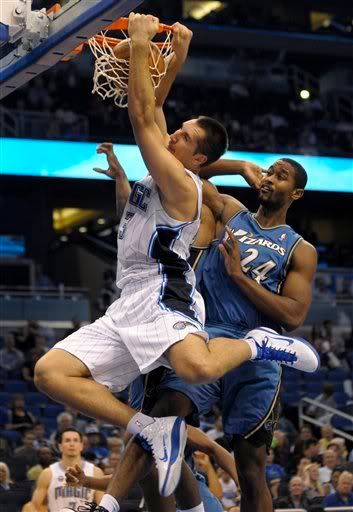 Hennigan's stockpiling of big men in the Draft was the main legitimate indication of Ryno not coming back. Will that mean Glen Davis gets dealt as well? Tough to say, but the Magic have a logjam of large bodies. Along with Baby, add Earl Clark, Andrew Nicholson (Who could start now), Kyle O'Quinn, Ayon, Dwight (obviously getting traded for Brook Lopez or Andrew Bynum), Justin Harper, Hedo Turkoglu (though he's a small forward). Then you add Summer League guys like Magnum Rolle trying to get a training camp invite. Can't also ever forget international men like Fran Vazquez and Milovan Rakovic. A slew of size. Glen makes $6.5 million per season. Almost a bargain now the way this free agency has gone. The only reason I'd trade Davis is if Rob can also unload a bad contract along with Baby. All I know is that the Magic still need wing and scoring help. However, this offseason is just beginning. We're nowhere near Fall just yet. Overall, I approve of this 'Henny' acquisition of Gustavo Ayon. It'll be intriguing to see the 'Goose' get loose. Once again, best of luck Ryno. You will be greatly missed by the Amway Center faithful and rest of the Orlando Magic community. Magic media can't be too thrilled either. Ryno was a pure riot.