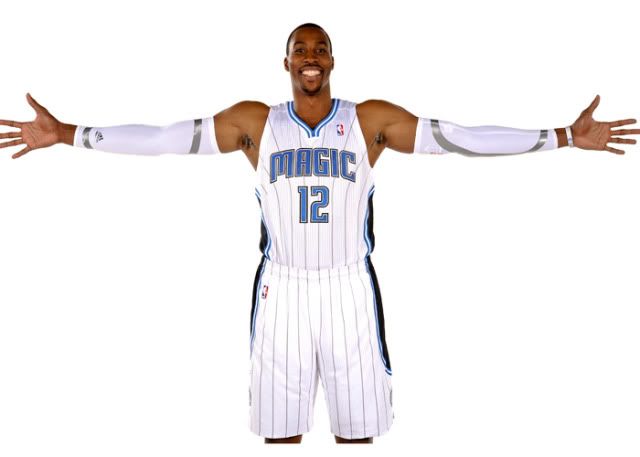 Before I get to that, I'd like to continue to rag on
Shaquille O'Neal
for looking like a buffoon again. O'Neal had the audacity to proclaim Bynum a better player than Dwight. That's beyond ludicrous and it was proven untrue Friday night in the
Magic's 92-80 home victory
in front of a sardine-can packed Amway Center. Andrew may have a slightly more polished offensive game, but every other aspect of basketball is clearly dominated by Dwight. With his 21 points and 23 rebounds, Dwight now sits at thirty-seven 20-20 games for his career. Meanwhile, Bynum only has 1 in an injury-riddled Lakers employment.
This is less about Bynum and more about Shaq once again trying to promote himself and bullying active players, even from the TNT studios. Longevity is the difference between Dwight and Shaq when it comes to which Magic man is the
best center in franchise history
. Shaq was only in Orlando pinstripes for 4 seasons. Howard is doubling that tenure right now, and erasing O'Neal's record book presence in the process. Don't think professional athletes are not viewing franchise record books. Combine longevity with superstar skill and you're going to see plenty of 23-year-old high marks get eclipsed as long as Dwight is still in pinstripes.
After last night's Laker win, Dwight is 26 points away from claiming sole ownership of another franchise record. This one is topped by 10-year Magic man
Nick Anderson
. It's also the most appreciated by Magic fans who pay attention to statistics. That would be total points, where Nick has sat atop at 10,650 for over a decade. Friday was also Nick Anderson's 44th birthday, so in a way I'm glad that Dwight didn't take the record last night. Don't fret Magic fans, Nick's still #1 in plenty of categories. There are some very interesting and familiar names on that franchise points list below.
I've been keeping an eye on this record since late last season. With the Lockout, and all of these constant Dwight rumors, I had my doubts on whether or not Superman would even suit up in Magic pinstripes for this '11-'12 campaign. But here we are, on the cusp of Dwight guaranteeing (in my eyes) his jersey being lifted up into the Amway Center rafters. Points per game wise, Dwight's a little behind this season from the 2010-2011 run. Instead of breaking Nick's record on January 20th, at home versus the Lakers of all teams, Howard may have to settle with accomplishing this feat on the road in Boston on Monday. Not as special as it would be in front of an Orlando standing ovation. Howard very well could surpass 10,650 in Indiana on Tuesday against the Pacers. If Dwight has 2 horrendous road offensive performances on that back-to-back, then it's a lock that Thursday inside Amway Center against the Celtics would be when Superman gets the deed done.
To get a better feel for how much influence Dwight has on the
Orlando Magic record books
, I'll list off a few that have been accumulated over a body of work that began in 2004. Only Magic player to win a slam dunk competition. Most Defensive Player of the Year awards (3). Most All-Star Games with 5 (Guaranteed to be 6 come next month). Most free throws, offensive rebounds, defensive rebounds, total rebounds, and blocks. Highest true shooting percentage, total rebound percentage, defensive rating, offensive win shares, defensive win shares, and total win shares. Then you have
seasonal records
. Highest field goal percentage, free throw attempts, total rebounds, rebounds per game and the list goes on and on.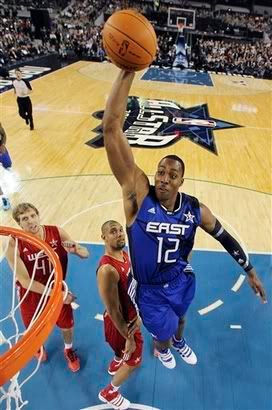 Dwight, whether you stay or go, I salute you for everything you've done in Orlando. For making us contenders again, getting us back to the Finals, and giving hundreds upon thousands of hours, money, and resources to the Central Florida area. I'm 23 years old and Howard has been a part of my life for a 1/3 of that. You don't let a little rough patch or an exit ruin that. For now, our 11-4 Magic are better than any team rumored to be going after Dwight, and any team that's on Dwight's 'list'. No city, franchise, or fan base will appreciate Mr. Howard and embrace him as much as Orlando has. There's no doubt about that. So Magic fans, let's keep watching this team have fun, win games, and make a possible final run at that trophy.