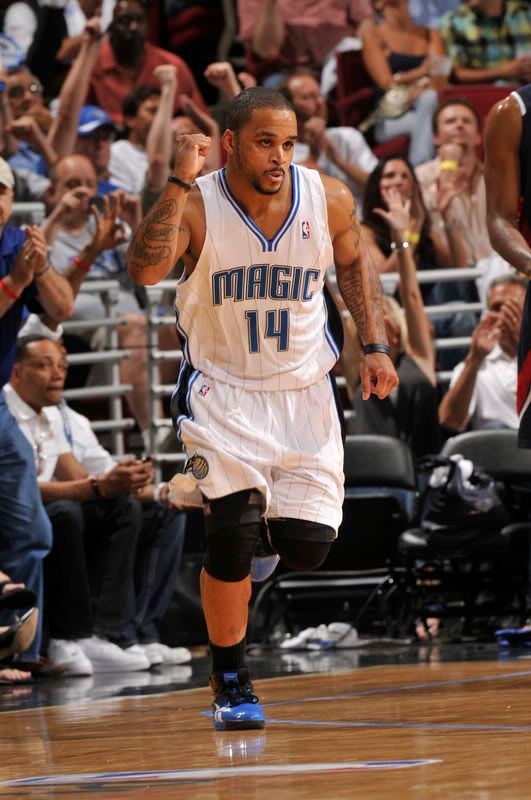 'Motivation' can be a funny thing. In sports, basketball spectators seem to view money as the main driver for players exerting themselves at an even higher rate than their normal on-court performance. I tend to view 'motivation' as a natural counterbalance to fear. Fear of not being able to make a living off the game/occupation you love. Fear that you'll never make your mark in your profession. Fear of digressing once a little bit of success comes your way. Fear that there's some young stud out there gunning for your job. Professional athletes may get paid millions more than your average citizen, but that money doesn't automatically eliminate the phobias that you or I may have.
Remember when
Jameer Nelson
went from the best player in college to not even getting drafted as an NBA Lottery pick? Remember when Nelson was only supposed to be an Earl Boykins-type undersized shooting guard that could provide an occasional spark off the bench? Remember when
Carlos Arroyo
was going to dethrone Jameer as the starter? Remember a few years ago when we thought Jameer had hit his potential, only to see Nelson play a phenomenal All-Star caliber season? He's
one of the best point guards in Magic history
, but this is a 'what have you done for me lately?' type of league. Loyalty doesn't mean anything if your one true superstar is on the verge of possibly bolting. This franchise has had a special 5-year run of success and no one in the City Beautiful wants to see that end.
Let me clear the air right now,
Deron Williams
,
Monta Ellis
, or
Chris Paul
would be a massive upgrade over Jameer who very well could be on the decline. The odds of Gilbert Arenas hitting anywhere near his prime form are slim to none, but they're a lot better than the chances we have at successfully trading for one of those elite guards. I'm sure no one expects anything out of
Chris Duhon
, who could barely dribble the ball up the court last season. This is a time where Orlando fans need to have faith in the franchise's current personnel. That includes are co-captain. Nelson had a
solid postseason in 2010
. What happened from then to now? Jameer has never been one to admit when he's hurt, or to use excuses.
His
2010-2011 season
was marred with numerous minor injuries all over his body that would affect the performance of any athlete. You'd hear vague mentions of a nick here or a twinge there for our point guard, but nothing any casual fan will have recalled. In my eyes, Jameer was barely able to move properly in the postseason. He lacked that extra burst that Nelson can normally count on in clutch situations. It's also why Arenas started to gain some minutes towards the end of our postseason run. If a great deal is made to help keep Dwight in town, perfect. If not, it's not the end of the world. Far from it.
Nelson has had to overcome countless criticism since his days at St. Joseph's. Potentially being the main reason why the Lakers beat the Magic in the Finals, as well as the still infamous
"I'll catch you in the 2nd round"
sound clip that never should have been heard by the world. The Hawks used that one quote to fuel their upset of the Magic in last summer's first round series. It's tough to think that defeat still isn't eating at Jameer's insides.
Can Jameer get back to All-Star form? After all, that epic weekend at the end of February is being hosted in Orlando. Does the soon to be 30-year-old have that aggression and drive remaining? Is the hunger for a championship greater than ever? Will Otis Smith drastically change up the point guard position before Nelson even gets a chance? Will
Gilbert Arenas
steal a large chunk of Mighty Mite's minutes? Any extra motivation helps. Can Jameer give us a comeback when the future of the franchise is on the line? So far he looks to be in great shape. Let's see how training camp, preseason, and the first few weeks of the regular season go before we can start making legitimate evaluations.
We're rooting for our 5'10" court general to step up and quiet the doubters once more. Whether he remains in Orlando pinstripes or not, it's in Jameer's best interest to have a fabulous '11-'12 campaign so his NBA career can be prolonged. Do us Magic fans proud, Mighty Mite. We want to believe you're still the man that can show us the way to an NBA title.