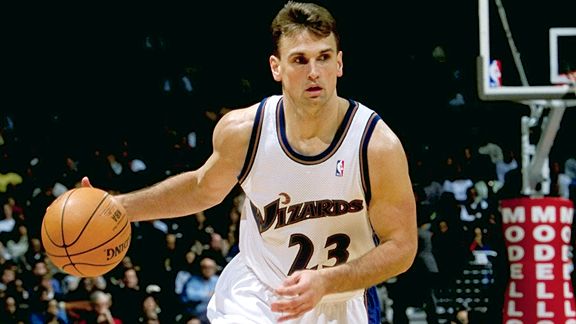 1998:
I hope
Danny Schayes
was on some type of airline rewards/loyalty miles program, because he was doing a lot of flying during this extended offseason being the Magic's player representative. The pressure rises when employees have lost a quarter of a billion dollars. Funny that another Washington play 13 years ago,
Tim Legler
, would play the role of
JaVale McGee
as far as disobeying the union and speaking out on how other players wanted the work stoppage ended. Legler went further stating that only 'middle class' ballers were sacrificing too much for 'superstars'.
Orlando Magic center Danny Schayes left for New York on Thursday evening, and he packed enough clothes to last a week.
The NBA labor negotiations finally could be getting serious.
Schayes and the rest of the players union negotiating team will re-open bargaining with NBA owners this morning, still hoping to reach an agreement that could start the 1998-99 season.
``You hope that getting everyone in the same room again, with both sides motivated, can provide the impetus to get a deal done,'' Schayes said Thursday on his way to the airport from his home in Denver. ``You certainly have a much better chance with everyone in the same room, instead of nobody in the same town.''
It will be the first full-scale bargaining session in two weeks. A few representative from each side met Tuesday, but accomplished little except to set up today's meeting.
The players already have lost more than $250 million in salaries for games lost since Nov. 3, which would have been opening night. Although the union has been adamant about not giving up too much in bargaining, there are signs that the union's stance is softening.
Some middle-class players have been grumbling quietly about sacrificing too much to make sure the superstar players don't have caps put on their earning potential as the owners are proposing.
To the dismay of union leaders, Tim Legler of the Washington Wizards, in The Washington Post Thursday, blasted union leadership for sacrificing the interests of the majority to protect the superstars.
``That's why the deal is not being signed,'' Legler told The Post. ``What this whole thing boils down to is the superstar players don't want to be maxed out on what they get paid individually. We're fighting now for stuff only a few guys are going to benefit from.''
The players union also has struggled to put together the exhibition games it keeps promising. Although several agents announced plans for a game early next month in Las Vegas, those plans have been scrapped because of organizational problems.
Union leaders have informed players coming to New York for talks to plan on staying for several days, knowing they are reaching a critical stage of negotiations.
The owners, conversely, have shown no signs of giving up their latest proposal, which would limit the maximum a star could make but still increase the average NBA salary of $2.6 million.
``The fact is, we're not going to play a season under the rules the players want us to play under,'' Commissioner David Stern said. ``We just want to find a workable agreement.''