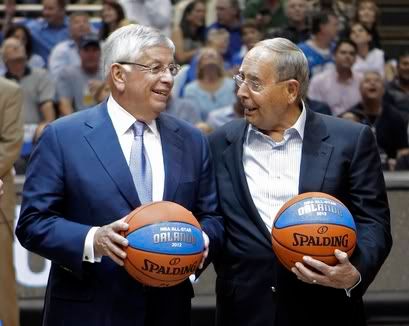 1998:
So we're now past the NFL Lockout point as currently there are more last ditch effort negotiations between the two disgruntled sides. Rich DeVos continued to remain in caring mode, as he kept on taking care of his roster of employees. It does help that Stern lifted the no-contact rule that was the figurative wedge between employer and worker. Clearly there is much 'progress' and 'optimism' in discussions to hold information meetings.
There was no bargaining session Tuesday, but both sides in the NBA's labor dispute still were working quietly toward reaching an agreement that could start the 1998-99 season.
Management of the Orlando Magic has been contacting players this week, inviting them to a meeting Thursday to hear the details of the proposal the NBA has given their union.
Teams around the league have been calling players in similar fashion since Commissioner David Stern last week lifted the no-contact rule that he imposed when the lockout began July 1.
Magic owner Rich DeVos has spoken with almost half of the Magic players by phone to explain how he feels about the deal. The NBA maintains that union leadership has not properly informed players about the proposal.
The players union, meanwhile, has summoned approximately 20 players who have been part of its bargaining team for a meeting today in New York. They are expected to formulate a new proposal and present it to the owners by the end of the week.
The sides have not met since Friday, when a 90-minute meeting failed to produce any progress toward a working agreement.
``My guess is we'll hear something from the union after their meeting Wednesday [today],'' said NBA Deputy Commissioner Russ Granik from Atlanta, where he was attending a USA Basketball meeting.
The labor dispute centers around how to divide $2 billion in annual revenues. The players, who received 57 percent last season, want an agreement that will reap 60 percent. The league is offering a 50-50 split.
The Magic's meeting Thursday will be conducted by Bob Vander Weide, team president, and John Gabriel, general manager. Several players are expected to attend. Among the players in Orlando on Tuesday were Penny Hardaway, Bo Outlaw, Nick Anderson, Horace Grant, Johnny Taylor and Jason Lawson.
Darrell Armstrong is expected to make the trip from Atlanta on Thursday. Danny Schayes, the Magic's player representative, likely will be in New York today and could arrive in Orlando by Thursday.
Meanwhile, Derek Strong, who resides in Los Angeles, won't attend the voluntary meeting.
``I see no reason to go there to listen to the latest proposal,'' Strong said. ``I've been in constant contact with [National Basketball Players Association Executive Director] Billy Hunter, and I feel that I have a good understanding of what's going on.''
The union also has been contacting players this week, trying to make sure they remain unified.
The season was supposed to start Nov. 3 but won't start now until mid-December at the earliest. Granik already has said that an agreement must be in place by mid-December at the latest to avoid cancellation of the entire season.