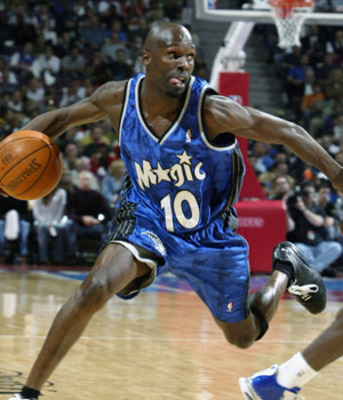 1998:
http://articles.orlandosentinel.com/1998-10-01/sports/9810010281_1_players-nba-hard-salary-cap
Currently we're at a critical point in owner-player negotiations. If no progress is made this weekend, David Stern supposedly will threaten the loss of the entire '11-'12 season. By far the most intriguing quote comes from the anonymous NBA executive that said not to expect a 50-game season. Whoops. Seeing a doubtful Russ Granik is never a good sign.
Darrell Armstrong
was calling David Stern's bluff, just as I'm sure many current players and writers are this week. Interesting that Darrell's reasoning was that the television networks would apply tons of pressure on the league offices. Tough to deny that's not occurring at this time either. Armstrong also brought up how it took an outstanding home run race to rescue baseball from the backlash they faced caused from their strike. Salute to Tim Povtak once again.
The NBA, trying to put some urgency into labor negotiations with its players union, will consider canceling the 1998-99 season if a new collective bargaining agreement isn't reached soon.
With the start of the regular season (Nov. 3) almost certainly to be postponed and negotiations going nowhere, the league is debating where it will draw the line in canceling the season.
``There is a point where a season loses its credibility. Where that is, hasn't been determined yet,'' said one NBA executive, who wished not to be identified. ``But we won't do what hockey did one year - play an abbreviated season. There won't be a 50-game season in the NBA. We don't feel that would be worth starting at all.''
The NBA and its players' union are not scheduled to negotiate face-to-face again until Oct. 8, and the two sides remain polarized by the issue of a salary cap.
Billy Hunter, executive director of the National Basketball Players Association, said he never would accept the hard salary cap the owners want. Russ Granik, NBA deputy commissioner, said there won't be an agreement without a hard salary cap to give owners some cost certainty.
The NBA generated $1.7 billion in revenue last season with almost $1 billion going to players in salary and benefits. The owners want assurances in the new CBA that will make it a 50/50 split.
Granik, Hunter, NBA Commissioner David Stern and Patrick Ewing, president of the players' union, met briefly Monday in New York, but little was accomplished, according to both sides.
The players are content to wait on the ruling, scheduled to come by Oct. 19, by an independent arbitrator on whether players with guaranteed contracts must be paid if the current lockout extends into the regular season. The owners are counting upon the threat of players missing their paychecks (beginning Nov. 15) to give them an edge in negotiations.
``I never really believed that you could lose a whole season, but now I'm starting to believe that's possible,'' Granik said earlier this week.
Although he said it was premature to talk about canceling the season, Granik admitted it had been discussed. For players, who make an average of $2.6 million, the cancellation would be devastating.
Although owners would lose considerable revenue from ticket sales and sponsorship packages, their four-year, $2.6 billion television package is guaranteed whether there is a season or not.
``I don't think David Stern would take a chance and do that [cancel the season],'' Magic free-agent guard Darrell Armstrong said from Atlanta on Wednesday. ``Even though NBC [and Turner network] paid the owners a lot of money, they gave them that money with the idea of seeing us play. So everybody loses during a lockout.
``You also have to look what it did to baseball a couple of years ago. It took the home-run race with [Sammy] Sosa and [Mark] McGwire for the fans to really come back to the game of baseball this year. In the NBA, we don't know if we're going to have anything like that to draw the fans back, especially if Michael [Jordan] retires.''
Both sides say it will take an estimated four weeks from the time a deal is signed before the regular season could start. There are more than 200 free agents to be signed, trades to be made, and training camps to be held.
The league already has announced an indefinite postponement of training camps that were supposed to begin Oct. 6 and the cancellation of 25 exhibition games. The league is expected to cancel the rest of the preseason games early next week.
``The players are taking a strong stance, and the owners are taking a strong stance,'' Armstrong said. ``It looks like they're going to start talking again soon. So, we're just going to have to wait and see what happens.''