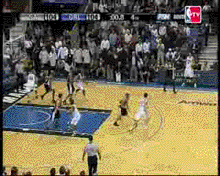 Enjoy full highlights of the game Dwight Howard beat the San Antonio Spurs with a game-winning dunk at the buzzer. The perfect alley oop from Hedo Turkoglu and a helpless Tim Duncan unable to compete athletically. February 9, 2007. At that time, it was probably both J.J. Redick's and Jameer Nelson's best games in Magic uniforms.
Brian Hill looks like a genius for a change as we fooled a Spurs team that would win the championship that season.
Amway Arena goes berserk on several occasions, and it's just a very beautiful clip to watch for any Magic fan. You also have David Steele and Matt Guokas showing off their superb chemistry on the broadcast. Orlando makes a long awaited return to the playoffs that season, even if it was a brief series.