On Monday, a new Guinness world record was apparently set in Lithuania. An estimated 60,000 people in 6 cities throughout Lithuania simultaneously bounced basketballs for a 5-minute period of time. This is all of course in preparation for EuroBasket 2011 that kicks off Wednesday. The number isn't absolutely official yet, but I don't see how Lithuania didn't dethrone Poland.
Here's an article
detailing the situation:
Clad in the green of Lithuania's national team, basketball fans dribbled for five-minutes non-stop in six cities that are to host the European championships running August 31 to September 18.
"We came here because we love basketball. For Lithuanians this is not just a sport but more a way of life," Audrius Rudys, 28, told AFP, standing together with his wife and nearly two-years old son, all three in green.
"I remember watching basketball with my grandpa when I was a small child. It was very important. Nothing unites Lithuanians more than basketball," his wife Jurgita Rudiene added.
They were among 15,000 fans who gathered in the capital Vilnius for the grand opening ceremony, attended by top leaders and heads from Europe?s basketball governing body FIBA Europe.
The Lithuanian squad is under pressure to shine in the tournament, that will see 24 national teams competing for the first time.
A survey released on Monday showed 56 percent of Lithuanians believed the team will play in the finals, despite bumpy preparations.
In the build-up to the championships, the team lost five games and had only four wins but that included victory over defending champions and main favourites Spain.
"Of course, we expect gold but we will support our team anyway," Rudiene said.
Basketball is often dubbed the second religion -- after Catholicism -- in Lithuania.
The nation of three million shone on the sport's global stage in the 1930s.
After winning the 1939 tournament at home, Lithuania secured the right to host the next tournament but World War II and subsequent Soviet occupation meant a 72-year long break until now.
"We have been waiting for this festival 70 years. Basketball united and inspires Lithuania," president Dalia Grybauskaite told the crowd at an opening ceremony in Vilnius.
Lithuania returned to international basketball after declaring independence from Moscow in 1990 and its men's side went on to claim Olympic bronze in 1992, 1996 and 2000 as well European gold in 2003.
It finished third in the World championships last year.
To date, the most people dribbling a basketball simultaneously was 7,556 during an event organised by the United Nations Relief and Works Agency (UNRWA) in Rafah, Gaza Strip, Palestine, on 22 July 2010, according to information on the Guinness World Records webpage.
However, organizers of Lithuania's Monday dribbling-off said the goal was to beat a record set by neighbouring Poland in 2009 when 30,000 people dribbled basketballs ahead of Euro 2009.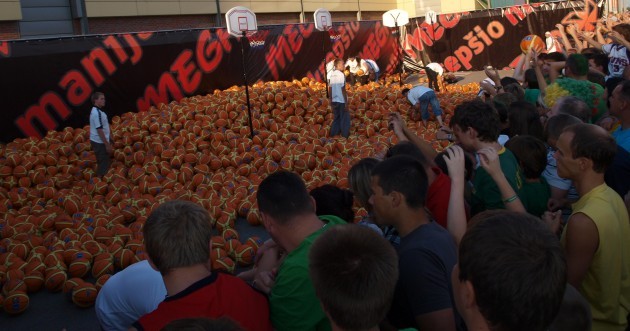 On a quick side note, Jonas Valanciunas has really been taking his vitamins since the NBA Draft:
Eat your heart out, Yao Ming
.