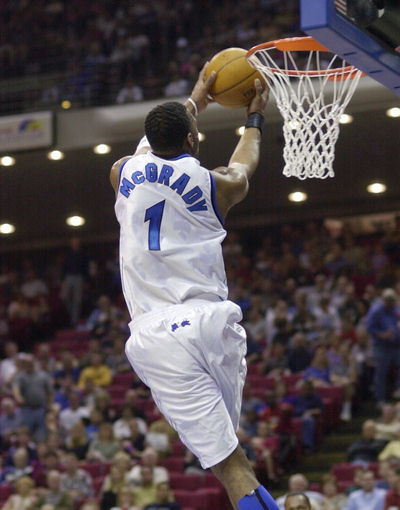 I won't hide that I'm not exactly the biggest
Tracy McGrady
fan in the world. The way things ended with his tenure in a Magic jersey was one of the ugliest player-team separations I've seen in the NBA. T-MAC still hates former GM
John Weisbrod
for how everything concluded in the summer of 2004. The spite is evident if you occasionally check out McGrady's
Twitter page
.
But that's not what this topic is about. Here we're talking about how Tracy McGrady should have been awarded Most Valuable Player of the
2002-2003 season
. In his 6th NBA season (3rd in Orlando), a 23-year-old Tracy
finished 4th in a very competitive voting
. The Magic barely made the playoffs, sneaking into the 8th seed with a 42-40 record.
Grant Hill
only played 29 games in another injury-riddled campaign for him. Tracy himself only played 75 games, those 7 games make a difference in a playoff race.
The team was towards the bottom of the league in defense, and depended on putting up the 6th most points per game.
Doc Rivers'
team got a boost when GM
John Gabriel
acquired
Drew Gooden
and
Gordan Giricek
, but that meant Orlando's 2nd highest scorer
Mike Miller
was shipped out. It was a risky move that ended up paying off at that time despite McGrady's complaints of losing his buddy Mike Miller. We were even up 3-1 in the first round of the playoffs on the #1 seeded Detroit Pistons. Too bad the first round format had changed to a 7-game series from a 5-game series.
We fall apart, and the rest is the start of a cursed playoff history for the Magic over the next 5 years. There's little doubt though that Orlando is a lottery team without the phenomenal numbers Tracy put up. Funny that we would end up with the worst record in basketball in the
'03-'04 season
with the same star player at the helm.
Tim Duncan
was rewarded for being the best player on the best team. San Antonio, Sacramento, and Dallas all finished within 1 game of each other at the top of the Western Conference. The Spurs would win that 2003 championship, but we're talking about a regular season award. It was Timmy's second straight (and last) MVP award. To me, it wasn't earned though. Duncan averaged 2.2 ppg more in '01-'02 than he did in '02-'03. Tim's defensive numbers slightly improved, but his offense dropped off too much to garner MVP recognition. Duncan went from 80% free throw shooting to a mediocre 71% in '02-'03.
It's 'Most Valuable', not the best player on the best team. Yes win-loss record plays a role, but not when you're on a team with as few weapons as McGrady had to work with. Duncan could rely on
Tony Parker
,
Manu Ginobili
,
Stephen Jackson
, and even
David Robinson
to divert pressure from him. Tracy, on the other hand, had Mike Miller and
Pat Garrity
at the 1st half of the season. Then Giricek and Gooden brought in the support during the playoff push. Those guys are not known as 2nd or 3rd offensive options.
Kobe Bryant
and
Shaquille O'Neal
negated each other kind of like
Dwyane Wade
and
LeBron James
are doing down in Miami. Plus, the Lakers underachieved in finishing 5th in the Western Conference. Minnesota T-Wolves fans can make the case that
Kevin Garnett
should have been above Duncan in the voting for that 2002-2003 MVP. The Wolves finished a respectable 51-31 and took the West's 4th seed. At least KG was rewarded in '03-'04 when he deserved it a lot more.
McGrady has never come close to the studly numbers he posted in the '02-'03 season. 32.1 ppg, 6.5 rpg, 5.5 apg, 1.7 spg, and 45.7 FG% is astounding for a shooting guard. It's still mind-boggling that the voters didn't choose T-MAC as the award recipient. Look at
Tracy's game logs
and you will see a season of consistency and him stepping up his performances against big time opponents.
Tracy won the '02-'03 scoring title by 2.1 points per game, putting up a ridiculous 32.1 ppg (Kobe was second at 30.0). He also had the
highest player efficiency rating than anyone
. A 30.3 efficiency score. Shaq was at 29.5. Duncan is 3rd at just 26.9. Not known as a 3-point scorer, McGrady shot 39% from downtown which was higher than Kobe and
Dirk Nowitzki
.
T-MAC was clearly 1st in usage percentage and offensive win shares. However, the MOST telling statistic to MVP worthiness is looking at win shares per 48 minutes and McGrady again is in first place. Tracy only averaged 39.4 minutes per game. Who knows how much larger McGrady's numbers would have been had Doc let him average an extra minute or two per game.
Look up the past decade of the
more recent MVP winners and contenders
such as Dirk Nowitzki, Kobe Bryant, LeBron James, Dwyane Wade,
Kevin Durant
and
Derrick Rose
. Compare their numbers from various top notch seasons to McGrady and you will see that Tracy's overall statistics from that '02-'03 season match or far exceed them. The voters flat out messed up.