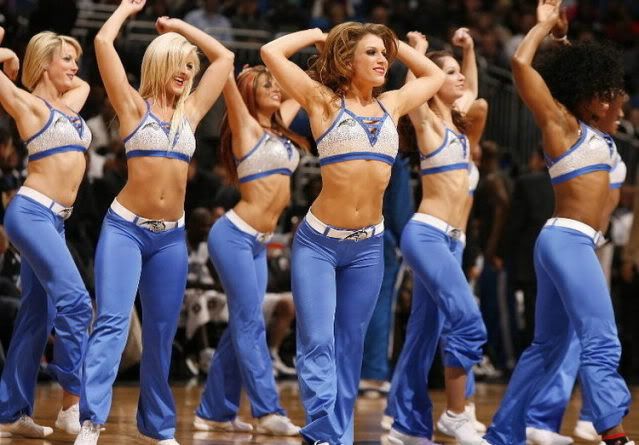 1990:
http://articles.orlandosentinel.com/1990-05-12/sports/9005120302_1_pennington-magic-girls-pelvic-thrust
It appears that in our current age no one blinks at the flashy, tight, short-short, skin showing outfits worn today by cheerleaders and dancers of all sports. However, our Orlando community would disagree with that over two decades ago. The public didn't even approve of dance moves.
There is a basic dance move called the pelvic thrust. Use your imagination. The move is very big in a lot of places, such as LA and Miami. In those cities a good pelvic thrust is overshadowed only by a dunk by Michael Jordan.
Pennington had the Magic girls use a rather diluted version of the move during one performance, and afterward she felt a tap on the shoulder. Tweet! Unsportsmanlike conduct, deeply religious Magic GM Pat Williams ruled. The pelvic thrust was finished in Orlando.
A dance instructor is an artist, always seeking new forms of creativity, forever daring to be bold. That is the tightrope Pennington, 28, walked. On Oct. 13, when the Magic Girls made their first appearance at Orlando Arena, they were stunningly dressed in black tops, black shorts and black shoes. No way, Central Florida cried out the next day. Pennington's phone rang all the next morning.
''I walk a fine line, I really do,'' Pennington said. ''From time to time I sway a little bit too far. My girls are from this area. I look for them to tell me, 'Wait a minute, you have gone too far.' What we want is exciting, wholesome, family entertainment.''
Pennington set up some checks and balances. Any Magic girl who shows up in Playboy better have all her clothes on or she'll be an ex-Magic Girl in a hurry. There cannot be any guest appearances at Thee Doll House, either. It's in the standard Magic Girls contract.
That's right. There is a long list of the things a Magic Girl cannot do. Basically, the girls have to all but swear in blood that they never will bring embarrassment to the Magic. In return for that, the Magic pay the girls 30 bucks a game.
''It is very much a labor of love,'' Pennington said.
That's a lot of restrictions for $30 a game. At least back then gas prices were a whole lot friendlier.
1995:
http://articles.orlandosentinel.com/1995-05-12/sports/9505120031_1_hardaway-shaquille-oneal-anfernee
http://articles.orlandosentinel.com/1995-05-12/sports/9505120084_1_michael-jordan-chicago-bulls-plans-for-tonight
http://articles.orlandosentinel.com/1995-05-12/sports/9505120201_1_shaquille-oneal-magic-jersey-number
People remember the greatness that was Nick Anderson's 'The Steal', still regarded as the best Magic moment in the team's history. Well a few days after that Game 1 triumph, the Bulls actually went on to steal Game 2 at Amway Arena. An issue that goes unnoticed now is the fact that Michael Jordan pulled a rare act and switched from his then #45 jersey back to his original #23 in between games.
He went from a nightmarish Game 1, to literally looking like the GOAT in his #23. Fines, complaints, and NBA merchandise chaos would be had. All is well that ends well as we know the good guys would eventually take the series.
Also, Penny Hardaway in just his 2nd season was named to the All-NBA 1st Team. The interesting thing to note is that Shaq was named to just the 2nd Team as David Robinson got the nod over him. In fact, Shaq wouldn't get his first career 1st Team award until 1998, his 2nd season with the Lakers. Congratulations today to Dwight Howard for being named to another All-NBA 1st team. It's amazing he wasn't voted in unanimously.
2001:
http://articles.orlandosentinel.com/2001-05-12/sports/0105120226_1_magic-orlando-arena-ghost-town
Brian Schmitz wrote a piece in regards to the Magic potentially leaving (This is a good 2-3 years before it would even become a legitimate issue) with Amway Arena slowly becoming dilapidated and very outdated. He also predicted an indoor lacrosse team. We had the Orlando Titans for one year last summer, so I found that a remarkable prediction. Also, I wish gas was $3.75 right now.